Information to help support your loved one
Help them have a comfortable experience.
We designed LEQEMBI Companion™ to help support your loved one at each infusion appointment. There are also some practical things you can do before and during each appointment to help make your loved one more comfortable at their infusions.
Check that their phone is charged
Bring a charger just in case
Make sure they have headphones or earbuds to help them get the most out of the features of LEQEMBI Companion at their appointment
Set up Wi-Fi and password if needed
Save the link to LEQEMBI Companion as a bookmark so it's easy to find next time
Help them get started with LEQEMBI Companion
You know your loved one best. If you think it could be helpful, here are some ideas to walk through LEQEMBI Companion together.
Take them through the options
See what they'd like to explore first
Explain how each game works and help with the instructions
Help them find the music, sounds, and meditations they like most
Help with the controls until they're settled in
LEQEMBI Companion isn't just for your loved one
It can be for you, too. The stress that comes with supporting your loved one can be a lot to handle. Research shows that playing games for 20 minutes a day and practicing meditation can help reduce stress and anxiety.
Enjoy LEQEMBI Companion with your loved one to help you both relax and pass the time together.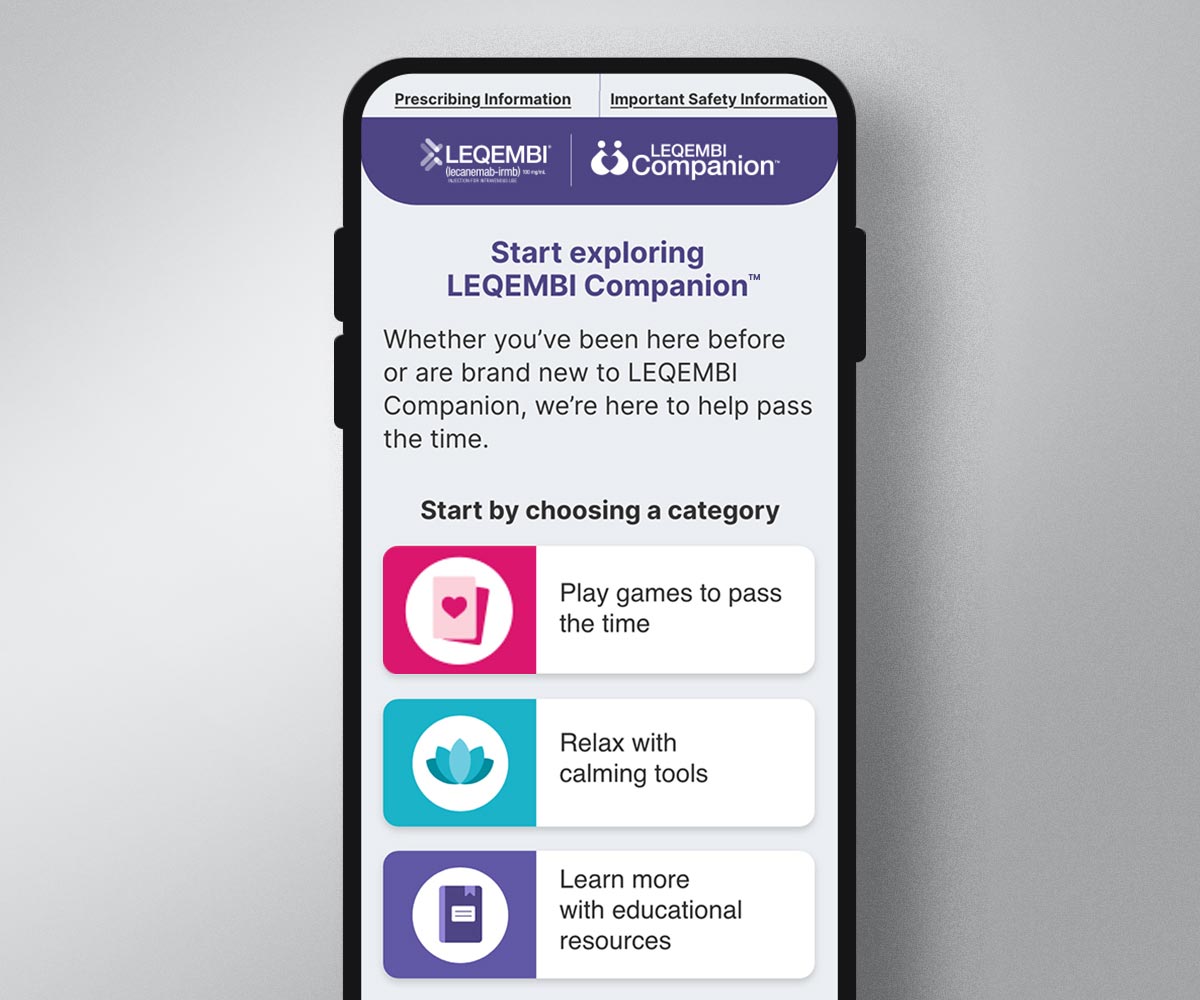 For the best experience
LEQEMBI Companion™ should be viewed on a mobile device such as a mobile phone or tablet. Bring your device with you to your LEQEMBI appointments so you can use LEQEMBI Companion there.
Please see Use and Important Safety Information including Boxed WARNING for LEQEMBI. Please see the Full Prescribing Information for LEQEMBI.