This is a guided meditation designed to help you relax.
Before we begin, make sure you are in a place where you can sit still, like the infusion chair or waiting room.
Over the next few moments, simply follow my voice.
I'll guide you through your practice today.
Start with your eyes open.
Take a few breaths, in through your nose, and out through your mouth.
In through your nose, and out through your mouth.
Now, slowly close your eyes.
Continue breathing in the same way:
in through your nose, out through your mouth.
As you notice yourself breathing in through your nose and down into your chest, then out through your mouth,
you'll feel your chest moving with that breath.
Just notice each breath moving through your chest, your midsection, and down into the deep low stomach.
Continue breathing this way, focusing on your breath.
Continue to breathe.
In through your nose, and down from your chest, focusing on each breath
For the rest of the practice, if your mind starts to wander or you become distracted by outside noise,
like the bustling of the infusion center, just return to focusing on your breath.
Now imagine yourself somewhere that you find peaceful.
Maybe it's a beach, or a forest, or the home of someone you love.
Maybe it's a secluded place in a city you love.
Any kind of place that allows you to slow down and rest and breathe.
The first place you think about is often the right place.
Imagine you're there now.
Take your time and settle in.
Wherever it is, make this place your peaceful place.
Take whatever comes to your imagination—and make it your own peaceful place.
Imagine this place more completely.
Place yourself in these surroundings, and notice what's around you:
grass, or trees, or buildings, or a beautiful room.
Imagine all the details of this place, details that make you feel the most comfortable, the most peaceful,
and allow yourself to fully enjoy being in your peaceful place.
It's very pleasant to slow down, and rest, and breathe, especially in your peaceful place,
to put all of yourself into your peaceful place.
Return to focusing on your breathing.
As you breathe in….and breathe out, put your free hand over your stomach.
Notice this breath.
Just focus all your attention on this one breath.
And when it finishes, focus all your attention on the next one that comes.
Before we end our practice today, let's continue to focus on your breath.
As you breathe in and out at your own pace, count back from 10.
10, 9, 8, 7, 6, 5, 4, 3, 2, 1
Open your eyes slowly, and bring your awareness back into the space.
Look around you, and notice some of things in the room:
the furniture, the windows, pictures on the walls.
Notice how you feel now.
Is it different from when you started?
Do you feel calm? Relaxed? At peace?
Remember how you are feeling now.
And remember that your peaceful place is always nearby.
Thank you for joining us for this guided meditation.
Remember, meditation is a practice that can become a regular part of your life to help you relax and reduce stress.
The more you do it, the more you can get from it.
We encourage you to come back to this space as often as you'd like.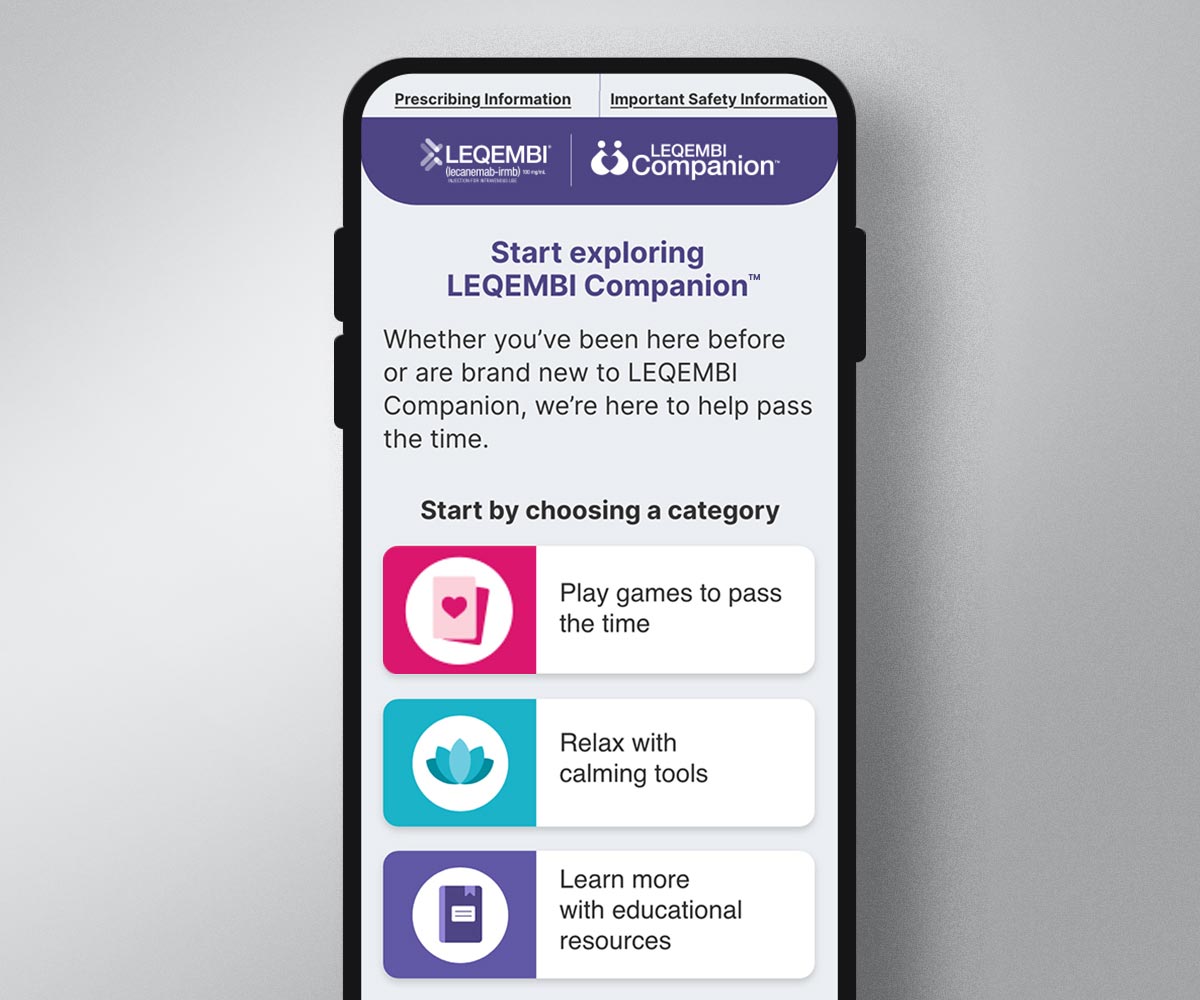 For the best experience
LEQEMBI Companion™ should be viewed on a mobile device such as a mobile phone or tablet. Bring your device with you to your LEQEMBI appointments so you can use LEQEMBI Companion there.
Please see Use and Important Safety Information including Boxed WARNING for LEQEMBI. Please see the Full Prescribing Information for LEQEMBI.